Making chocolates is not very difficult. If you are a chocolate lover, you might want to sometimes try out your hands on different chocolate recipe. Eating a chocolate that you made all by yourself, is sure to come with some extra pleasures and satisfaction. Here are 5 top chocolate recipes you could try at home.
Chocolate covered cherry cookies
You will need milk, jar maraschino cherries, baking powder, baking soda, unsweetened cocoa powder, all purpose flour, vanilla extract, egg, white sugar and butter. Beat the sugar and butter properly, add vanilla and egg and bet properly. Add baking powder, baking soda, cocoa powder and flour and mix till it is smooth. Roll the product to balls of about 1 inch or more, put them on cookie sheet that is ungreased, use your thumb to press the middle of every ball. Drain reserve and cherries juice and put cherry in every cookie ball indentation. Heat chocolate chips and condensed milk till they melt. Add cherry juice and put part of the mixture over every cherry so that the cherries are covered. Bake for 10 minutes in preheated oven.
Éclair cake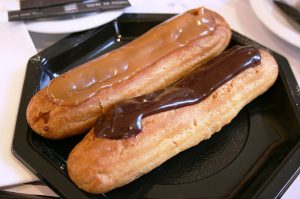 You will need chocolate frosting, graham cracker squares, milk, whipped topping and vanilla pudding mix. Blend the milk, whipped topping and pudding mix thoroughly in a medium bowl. Place graham cracker squares, then spread part of the pudding mix on it then another crackers layer and the rest of the pudding mixture.
Chocolate Trifle
You will need chocolate candy, whipped topping, sweetened condensed milk, water, chocolate pudding mix and package brownie mix. Based on the direction for the package, make a brownie mix and allow to cool. Mix milk, water and pudding mix in a big bowl. Add whipped topping. Serve by putting spreading part of the pudding mixture, part of the whipped topping then the remaining part of the pudding and the remaining whipped topping. Garnish with a top layer of chocolate.
Bar Dessert of Hot Fudge Ice Cream
You will need peanut, frozen whipped topping, ice cream sandwiches, peanut butter and chocolate syrup. The chocolate syrup should be poured into a microwave safe bowl till it is hot, but not boiling. Add peanut butter and stir. Allow the temperature to reduce to room temperature. Put part of your whipped topping on sandwiches and then spread part of the chocolate, spread part of the peanut then spread the remaining whipped topping on sandwiches, the remaining chocolate and the remaining peanut.
Creamy Chocolate Fudge
You will need vanilla extract, chopped nuts, chocolate chips that are semisweet, milk chocolate chips, salt and butter. Heat a large saucepan with medium heat. Mix salt, butter, evaporated milk, sugar and cream. Allow to cook for about 5 minutes after boiling. Add milk chocolate chips and semisweet chocolate chips. Stir until you get a smooth texture. Add the vanilla and nuts. Pour into a pan with aluminum foil and place in the refrigerator to cool.
Try these chocolate recipes and discover how easy it is to make your taste of chocolate from the comfort of your home.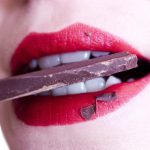 If you have somehow managed to reach here, we bet you love chocolates! Anyway, who doesn't! When you love something, you want to know all about it, you want to gain all the knowledge you can about that particular thing. And when it's chocolate, the temptations are doubled.