Triple-Chocolate Cheesecake
Triple the dose, means triple the pleasure. This awesome twist on the popular cheesecake combines the creaminess of the original dessert, with the rich chocolaty flavor.
Heat your oven to 350 degrees Fahrenheit.
Put 1/4 cup sugar, 1 tablespoon stick margarine, and 1 tablespoon egg white in a bowl,
and beat until blended.
Press the mixture onto the bottom of a pan, which you oiled previously.
Bake 10 minutes.
For the cream, Combine 3 tablespoons dark rum and (1-ounce) chocolate.
Cook over simmering water until chocolate melts, and stir frequently.
Once done add chocolate syrup, until smooth.
This time oven should be heated to 300°. Put 16 ounces of cream cheese in a large bowl
and mix until smooth.
Add 1 cup sugar, vanilla, 2 tablespoons cocoa and salt and mix again.
Add previously made cream to this and beat at low speed until blended and then add 2
eggs.
Add the cheese mix in the pan and bake in the oven for 40 minutes.
Combine 1 tablespoon sugar, 1/2 cup sour cream, and 2 teaspoons cocoa and mix.
Turn off oven, and spread this mixture on to the cheesecake.
Leave the cheesecake for 40 minutes in the oven with door closed.
After taking it out from the oven, and allow it to cool for approximately 8 hours.
Chocolate Hazelnut Mousse
This recipe will provide you with that foamy renown texture of a mousse, spiced with the nutty flavor of hazelnuts.
Mix 1/4 cup sugar, 2 1/2 tablespoons cornstarch, 1/4 cup unsweetened cocoa, 1/4 teaspoon salt, 2 eggs in a bowl, and mix with a whisk.
Heat milk in a small, saucepan, until bubbles form.
Slowly add hot milk to first mixture, and stir using a whisk.
Pour the milk mixture in a pan, and cook for 5 minutes, while stirring.
Spoon mixture into a bowl, and add 1/2 teaspoon vanilla extract, and 3 ounces of chopped dark chocolate, and stir.
Cool the mixture by putting the bowl over ice.
Fold the topping, and chill at least 3 hours, and finally it is ready to eat..

Double chocolate cookies
Another recipe with double the chocolate, these simple, yet delicious cookies will get eaten in minutes.
Heat oven to 350.
Melt 8 ounces roughly chopped,semisweet chocolate, with 4 tablespoons butter in the
microwave, in 20 second rounds, stirring between each.
In another bowl mix1/2 teaspoon baking powder, 2/3 cup all-purpose flour, and 1/2
teaspoon salt.
Mix 2 eggs, 3/4 cup sugar, and add melted chocolate.
Mix together with the flour mix until fully combined, and finally add in bits of chocolate as
well.
Drip small balls of dough, 3 inches one from another onto baking paper and place in the
oven, around 13-15 minutes.
Whether you're making a gala dinner, and need a rich, luxurious desert, or if you're looking to bake a batch of cookies for the kids, chocolate recipes are always a great choice.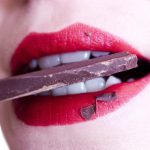 If you have somehow managed to reach here, we bet you love chocolates! Anyway, who doesn't! When you love something, you want to know all about it, you want to gain all the knowledge you can about that particular thing. And when it's chocolate, the temptations are doubled.